The U.S. Department of Veterans Affairs is preparing to launch its first instance of a new Cerner EHR this week, an effort two years in the making.
Mann-Grandstaff VA Medical Center in Spokane, Wash., will be the first medical center to go live with the new Cerner EHR.
James Gfrerer, assistant secretary for information and technology and CIO for the VA, and a Marine Corps veteran, said the VA's Office of Electronic Health Record Modernization (OEHRM) spent the last seven months refining details of the EHR launch at Mann-Grandstaff.
"From an [Office of Information and Technology] perspective, we are fully prepared and our release framework, what we do to tabletop and prepare and war game for a release and a go-live like this, has become a very mature and substantial effort," he said. "That said, it is our first go-live, so we'll see how things go."
The launch was originally scheduled for March 28 but was delayed due to the COVID-19 pandemic, as well as the lack of critical infrastructure upgrades at the facility, including additional interfaces between the VA's existing patient record system and the Cerner EHR.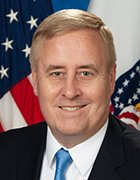 James Gfrerer
Interoperability will make or break the VA EHR modernization project, according to Forrester Research analyst Jeffrey Becker.
"Many attribute delays to the ongoing pandemic," he said. "But in reality, this go-live has been delayed several times before, most recently due to interoperability issues."
The VA implementation of the Cerner EHR is the largest implementation undertaken in years and is being scrutinized by many in the healthcare industry, he said. The VA not only has to make the transition from its existing homegrown Veterans Health Information Systems and Technology Architecture (VistA) platform system to the new Cerner EHR, but it also has to connect the new EHR to the U.S. Department of Defense. The goal is to align the two systems and create a longitudinal patient record for military personnel.
"Interoperability will be more important to this project than it might in other installs because regulators expect the VA Cerner instance to integrate tightly with the DoD Cerner instance," Becker said. "Tighter integration between EHRs is seen as a key component of the solution."
The VA signed its initial $10 billion contract with Cerner in May 2018 to transition the department, which has more than 1,255 facilities serving more than 9 million veterans, from the VA's VistA platform to the Cerner EHR platform. The price tag for the migration jumped to $16 billion in November 2018, just a few months after signing the initial contract. The migration also experienced delays prior to the COVID-19 pandemic, which then forced the VA to rethink and further delay its first launch.
Despite the delays and additional costs, Gfrerer said the VA plans to stick to the 10-year implementation schedule and overall cost estimation of the EHR modernization effort.